60s Rock Charity Band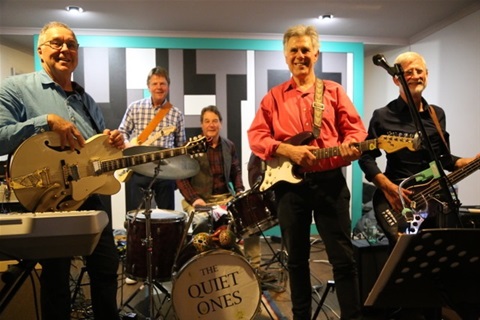 The Quiet Ones, originally formed by a group of teenagers in Hornsby, Sydney, Australia in 1964, played 60s rock music at dances, surfclubs, football clubs and the normal range of parties etc mainly around Sydney's North Shore and Northern beaches and various country B and S balls until the band broke up in 1970.
They re-formed in 2007 to play as a charity band, raising funds for charities.  The main charity they have worked for is Bo Children's Hospital in poverty stricken Sierra Leone, Africa.  Over the past few years the band has raised about $30,000 for this charity plus some thousands of $ for other various charities.
The current band lineup is PG Naylor, vocals and guitar, Phill Beazley, drums, Laurie Facer, bass guitar, Peter Cookson, lead guitar, harmonica and vocals and Ian Taylor, keyboards, guitar and vocals.
The Quiet Ones are available for booking for any events that would enjoy great 60s rock music.  Contact pgnaylor@bigpond.com. All proceeds to a charity of your choice or to our chosen charity, Bo Children's Hospital.
Testimonials
By Golly Phil , You,  the Band and the WHOLE team deserve a standing ovation.
That was such a FANTASTIC event !!!
it's decades since I've seen that many people actually on the dance floor… The Club must be rapt !
and the Bo Children's Hospital was a wonderful and deserved recipient.
 Scott Gibbons, MrSOLD,Emcee, Charity Auctions
  Hi Laurie,
A very big THANK YOU to you and The Quiet Ones members for hosting a very successful evening on behalf of the Bo Children's Hospital.  A great time was had by all as well as raising much needed funds to help run the hospital.
Denise Curry, Bo Children's Hospital Foundation
Hi Phil,
Thanks for playing here on Saturday night.  Everyone here including the staff had a great time!
Thanks again and look forward to having you guys back here.
Regards,
Anthony Ryan
General Manager
Asquith Bowling & Recreation Club
Ph: 9477 1364
Dear Laurie, Phil, Peter, Phil and Ian,
Thank you all so much for your wonderful donation of $1000  to the Bo Children's Hospital.  We very much appreciate your generosity for this donation and for the time given for your performance at the Asquith Bowling Club, everyone thoroughly enjoyed themselves. You are all excellent musicians as well as performers in the band, congratulations!
We also raised $620 from the raffle and the lady that won it works for the North Shore Hospital and she was going to raffle it again for the RNSH, a double whammy for healthcare
The money you raised will go a long way at the Bo Children's Hospital and will be greatly received. 
Denise Curry, Bo Chiledren's Hospital Foundation
Tribute
The Quiet Ones were honoured with a tribute in New South Wales State Parliament on 11 May 2017 by the Minister for Innovation and Better Regulation, the Hon Matt Kean MP for their work in raising funds for charity.
Sample The Quiet Ones
Click below to hear a sample of The Quiet Ones from a CD album of 60s covers they recorded in 2016